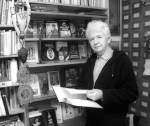 This year the library of Vytautas Magnus University is donated a significant collection of publications on Asian and African country topics, compiled by the famous Lithuanian orientalist Dr. Romualdas Neimantas (1939-2009) during his lifetime.
The collection consists of more than a thousand scientific and fiction books about Asian and African cultures in Russian, Lithuanian, English, Japanese and other languages. Furthermore, the donation includes an especially valuable bibliography, which was collected from 1959 till 2009 and which is the only bibliography of Lithuanian orientalistics in Lithuania. It contains the majority of articles from Lithuanian newspapers and magazines, which talk about various countries of the Orient.
The official book donation ceremony will take place on November 3 at 12:15 in the Historical Presidential Palace of the Republic of Lithuania in Kaunas (Vilniaus str. 33, Kaunas) during the symposium "Japanology within Asian Studies in Lithuania: Historical Perspective and Present Situation", organized by Vytautas Magnus University Centre for Asian Studies.
On this occasion since November 3 the exhibition of Dr. Neimantas' books will be displayed in the Historical Presidential Palace. From November 7 the exhibition will be moved to the entrance hall of Vytautas Magnus University main reading room (Donelaicio str. 52, 2nd floor).
From next year the donated books will be placed in VMU Chiune Sugihara reading room, which is located in VMU Centre for Asian Studies (Vaižganto str. 30).
Dr. Romualdas Neimantas (1939-2009). Born in Naujikai (Telšiai district), in 1975 graduated from Vilnius University Faculty of History and Philology, in 1990 in Moscow Academic Institute of Oriental Studies defended his PhD dissertation in history of Lithuanian- Indian cultural relations.