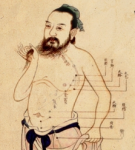 Centre for Asian Studies invites to the public lecture  "Principles of Traditional Chinese Medicine" by the specialist of traditional Chinese medicine Liu Jingfeng. The lecture will be held with the support of Confucius Institute.
The lecture will be held on Thursday, November 29, 18:00 at VMU Faculty of Humanities (Donelaicio str. 52, Kaunas, room 422)
Language of the lecture will be Chinese, with the translation into Lithuanian. Everyone is welcome to participate.