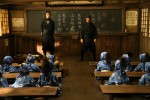 This Saturday HASHI is organizing it's annual sports day. The topic of the
sports day is Final Ninja School Exam! We will have various tasks and
assignments to accomplish which are obviously for the sake of sucesfull
graduation from Ninja school.

Things you must have if you want to participate:
thick socks(you can't wear shoes inside)
comfortable sportswear
sporty mood
The best of ninja graduates will be awarded with HASHI club prizes thus
prepare for a tough competition!
Time: November 9th (Saturday) 1PM (if you want to dress up and prepare,
come earlier at half past twelve)
Location: Kaunas judo club "Danas" ", Griunvaldo g. 8.
map: http://www.danas.lt/page11.php