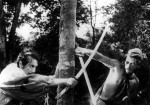 This Friday HASHI club's guest is Gediminas Jankauskas – a film critic, VMU and VU lecturer of film history and cinematography and organiser of cinema-related activities. He will tell a little bit about the Japanese film history and present a black-and-white film "Rashomon", made in 1950.
It is Japanese film classic, which popularised Japan's name and films around the world. "Rashomon" is a story about a meeting of three people: a samurai, his wife and a bandit. The film is known for a plot device which involves various characters providing alternative, self-serving and contradictory versions of the same incident. Now it has become known as "Rashomon effect". The movie will be in Japanese with English subtitles.
"Rashomon" won several awards, including the Golden Lion at the Venice Film Festival in 1951, and an Academy Honorary Award at the 24th Academy Awards in 1952, and is now considered one of the masterpieces in film history.
After the presentation: our tea, your snacks You are welcomed!
Duration: 88 min
Director: Akira Kurosawa
More information about the movie can be found here: http://www.imdb.com/title/tt0042876/
Time: October 17th (FRIDAY), 6 pm
Place: Sugihara House, Vaizganto g. 30