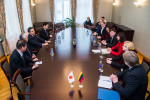 On May 8th Vytautas Magnus University (VMU) signed a Memorandum of Understanding with Hiroshima University and established Hiroshima University Lithuania Centre.
The Memorandum was signed by Rector of Hiroshima University Prof. Mitsuo Ochi and Rector of VMU Juozas Augutis. Throughout the same day the honorable guests visited the Centre for Asian Studies and the Faculty of Humanities. During the meetings, the future cooperation with colleagues and students were discussed. Vice-Rector, Prof. Toshiyuki Sato also delivered a lecture about kanji for VMU students, which you can watch here. Prof. was appointed as visiting professor of Vytautas Magnus University.
It was agreed that the Hiroshima University Lithuanian Centre should be located in the Centre for Asian Studies in Putvinskio st. 23 4th floor.
Hiroshima University was established in 1929 by the merger of a number of national educational institutions. Now it has 11 different schools (faculties) based on integrated arts and sciences, letters, education, law, economics, natural sciences, medicine, dentistry, pharmaceutical sciences, engineering and applied biology.