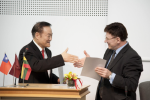 On 1 March, VMU opened its new division, Taiwan Centre – the first of its kind in the entire Eastern Europe. The occasion was marked with a festive opening ceremony and the international scientific conference Chinese / Taiwanese Studies in Baltic States.
Guests of the event included Representative of Taipei Mission in Riga ambassador Gary K. Y. Ko with delegation, President of National Taiwan University Lee Si-Chen, Dean of the College of Social Sciences in the National Cheng-Chi University Yih-chyi Chuang and researchers from Lithuania, Latvia, Estonia and the USA. The conference ensured a great opportunity to strengthen the relationship not only with researchers from Taiwan but also scholars from other countries working in the field of Chinese / Taiwanese studies.
During the opening ceremony, a memorandum of collaboration between the Taipei Mission and VMU was signed. Guests from Taiwan made the opening and keynote speeches of the conference.
The Taiwan Centre at the VMU Faculty of Political Science and Diplomacy is the first centre of this kind in the region of Eastern Europe. The new sub-division will inform the Lithuanian public on Taiwanese culture and society, in addition to improving relations and encouraging cooperation between researchers in the context of Chinese / Taiwanese studies.
The future coordinator of the centre, Assoc. Prof. Dr. Agnė Budriūnaitė, expressed hope that it would organise various Taiwan-related events: conferences, symposiums, public lectures, summer schools, exhibitions, concerts, etc. "First and foremost, it is crucial to set the preconditions for successful research of Taiwan. We want to start collecting books on Taiwanese history, culture, society, politics, economics and other topics. We also hope to do joint research projects with Taiwanese scientists and improve the academic relations between VMU and Taiwanese scientific institutions. In the future, we're planning to add Taiwanese studies to our university's programmes", Assoc. Prof. Dr. Budriūnaitė explained.
Taiwan (or the Republic of China) is a small Chinese-speaking country located off the south-eastern coast of mainland China. Thanks to its thriving economy, Taiwan is one of the Four Asian Dragons: just like Hong Kong, South Korea and Singapore, it earned this title with very high growth rates and rapid industrialization. Taiwan has achieved global recognition for its highly advanced technologies.
According to Dr. Aurelijus Zykas, the Director of the Centre for Asian Studies, Lithuanians are showing a growing interest in the entire East Asian region, while the Taiwanese tourists are increasingly drawn to Lithuania, a destination they find as exotic as Taiwan is for Europeans. "A fourth of the global population lives in East Asia today. This region has some of the largest economies in the world; it is actively involved in global economic, political and cultural processes. Lithuanians are more and more interested in East Asia: when the new study programme of East Asian Cultures and Languages was launched last semester at VMU, it was met with great success and a large number of applicants. Taiwan has a special place in this region. Lithuania has seen a rising influx of tourists from Taiwan, which is also a potential investor for us", Dr. Zykas elaborated.