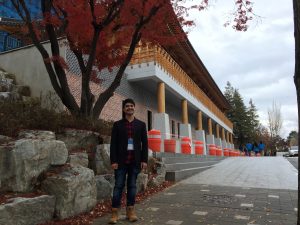 During November 6-10 Murad Asgarow, East Asia Region Studies student represented Vytautas Magnus University in the 2018 Jeonju International Biennale of Korean Studies at Chonbuk National University in South Korea. The conference provided scholars with an opportunity to share their ideas and the latest achievements in Korean Studies with fellow scholars from around the world.
During students visit to South Korea Murad not only participated in the conference but also had an opportunity to learn more about Korean history and experience its culture. Our student visited multiple museums and historical places in Jeonju, wore hanbok, etc.
You can read more about our student's visit in South Korea here.