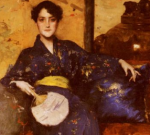 The open meeting of the project "Japan in the West: a Comparative Analysis" will take place in the afternoon of November 4 at the Historical Presidential Palace of the Republic of Lithuania in Kaunas (Vilniaus str. 33, Kaunas). During the meeting six scholars from Vytautas Magnus University, Japan, France, Austria and Australia will discuss about the changing notion of Japan in the West.
The meeting is going to be held right after the international symposium of Asian studies in Lithuania. Everyone interested in these issues is invited to listen to the presentations and to take part in discussions.
The aim of the meeting is to present the results of individual research, to discuss the further tendencies for the joint research and to prepare for the publication to be released next year. The project is sponsored by the Japan Foundation.
The scholars listed below will make the following presentations:
Prof. Sepp Linhart (University of Vienna, Austria) The Visual Representation of Japan in the West;
Assoc. Prof. Yoshiko Ikeda (Ritsumeikan University, Japan) Changing Images of Japanese Businessmen in American Films: from A Majority of One (1961) to Lost in Translation (2005);
Dr. Kyoko Koma (VMU) Image of Japan seen though Development of Acceptation of Fashion in France;
Dr. Aurelijus Zykas (VMU) Development of Public Opinion on Japan in the West in 1980's and in 2000's;
Ms. Clothilde Sabre (Lyon 1 University, France) Exotism and Popular Culture: Imaginary of Japan in France;
Mr. Adam Windsor (Kansai Gakuin University, Japan) Oriental Japan: the construction of popular images of Japan: the Japanese in Australian media.
The more detailed program of the meeting and the Symposium can be found here.