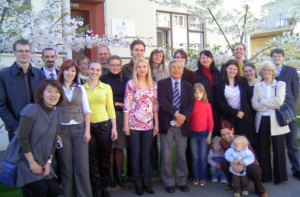 The postgraduate program of East Asia Region Studies (EARS) was launched at 2007 by the Regional Studies Department (Faculty of Political Science and Diplomacy, VMU), and is one of two programs, constructed on the basis regional knowledge. It is the first and the only one graduate program in Lithuania and Baltic States that offers English courses in the field of East Asian contemporary politics and society.
The program is mainly concentrated on modern political, economic, social and cultural issues of East Asian countries, i.e. Korea, Japan and China, but also provides possibility for students to study region's history, traditions and religions. The learning of East Asian languages is not mandatory, however students will have a chance to use their credits for that as well.
EARS program's applicants must hold a bachelor's degree of humanities or social studies. In order to obtain the basic qualifications for the EARS most of the students during the first year will have to listen to extra lectures. Same as earlier, the best and most motivated students will be encouraged to study at least one semester abroad at one of our partner universities in East Asia.
After graduation students acquire the MA degree of political science. All the courses of the program are taught in English. Research paper and master's thesis are also written in English.
Additional information
For admission procedures and other useful information regarding degree studies at VMU, please reffer to the English homepage of VMU
Annual Cherry blossoms festival
Our programs tradition, continuing from its establishment, is annual Cherry blossoms festival held in spring. Our students, teachers, researchers and alumni gather together and share their time in relaxed atmosphere.
Preparations for the joint degree studies program
In 2011 Centre for Asian Studies started implementing the EU funded project "Feasibility Study on the Transnational Development of Asian Studies at VMU". The main goal of the project is to prepare a feasibility study for VMU Joint Degree Program in the field of East Asian Studies (political science) and to sign the Memorandums of Understanding with other universities in this regard. It is expected that a newly planned Joint degree program (with at least two foreign universities participating) would ensure a more systematic development of Asian Studies in Lithuania towards internationalization.
During the project, it is expected to find the interested partner universities and to analyze legal, management, cost, content and other aspects of the future Program together with them. The study will summarize three stages of the research regarding the Program:
the preliminary research of legal environment and partner institutions;
the investigation of needs and expectations within Lithuania;
the comprehensive analysis of selected institutions (during the internships).
It is expected that the Feasibility study will not only discover the real opportunities of Joint degree program's further planning and needs, but also will benefit VMU in the form of expanding relationships and various cooperation capabilities, such as academic exchange, joint research, etc.
VMU teachers would be able to maintain and develop contacts established during their internships, as well as to initiate further cooperation in various academic fields. The analysis carried out in the visited universities would enable learning more about different education systems, innovative teaching methods, and would help to absorb the best practices, to adapt them to Lithuania in order to improve education quality and to ensure long-term international collaboration between universities.