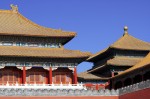 Centre for Asian Studies invites all those interested to the viewing of documentaries on Forbidden City in Beijing. Documentaries will be introduced by VU Confucius Institute. The viewing will take place on March 25th and 26th at VMU faculty of Political Science and Diplomacy (Gedimino st. 44), room 303, at 6 p.m.
The Forbidden City was the Chinese imperial palace from the Ming Dynasty to the end of the Qing Dynasty. For almost 500 years, it served as the home of emperors and their households, as well as the ceremonial and political center of Chinese government. Forbidden City is listed in UNESCO World Heritage List and is visited by millions of tourists every year.
Schedule:
March 25 (beginning at 6 p.m.)
The construction of the Forbidden City and its golden age
Governance in the Ming Dynasty
March 26 (beginning at 6 p.m.)
Governance in the Qing Dynasty
Life in the palace and its many treasures
Language: English.
All are welcome to participate!