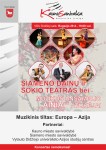 Centre for Asian Studies gladly invites everyone to a performance of Xiamen Songs and Dance Theatre from China. The event is organized by the company "Kauno santaka" and it will take place on September 29th, 19.00 at the VMU Great Hall (S. Daukanto st. 28).
Lets welcome our guests from a far-away city Xiamen which is also a partner city of Kaunas. During the event you will have a chance to learn about Chinese culture's traditions, dances and also meet the artists of the famous theatre. What is more, "Kauno santaka" music performers "Ainiai" and the guests from China will show the collaborative program for everyones pleasure.
This concert is a part of "Kauno santaka" company's project "Lithuania – a Crossroad for Cultures". During it the tight connections between many artists from countries such as South Korea and People's Republic of China were made.
Organizers: company "Kauno santaka"
Partners: Kaunas City Municipality, Xiamen City Municipality, Vytautas magnus University
The entrance is free of charge