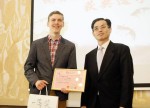 On the 9th of May the national contest "Chinese Bridge" was held. It was organized by VU Confucius Institute and in which all the students from Lithuania who are learning Chinese language were competing against each other with their language skills, knowledge about China and personal talents.
Among the 6 contestants three students were from VMU East Asian Languages and Cultures BA program: Zita Mažeikaitė, Ieva Širvelytė ir Andrius Vilkas. Andrius Vilkas won the main prize as he impressed the judging committee with his language demonstration, knowledge about China and a beautiful reading of Chinese poetHaizi's poem about the blossoms of flowers. Now the winner will have a chance to visit China and represent Lithuania in the global Chinese Bridge contest.
Chinese news agency Xinhua posted an article about the mentioned event, in which the winner Andrius Vilkas and other contestants shared their thoughts about China.