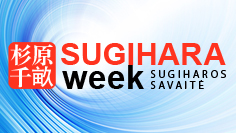 We cordially invite you to participate at the events of Sugihara Week, which will take place in Kaunas from 2nd to 8th September 2017.
Sugihara Week, organized for the first time, is the event which aims to perpetuate the achievement of Japanese diplomat Chiune Sugihara. This personality lived in Kaunas (Lithuania) during 1939-40 and, together with Dutch Consul Jan Zvartendijk, issued the famous "Visas for Life", thus saving thousands of lives of Jewish refugees.
Ambassador of Japan to Lithuania Mr. Toyoei Shigeeda states: "Vice Consul Chiune Sugihara becomes more and more famous worldwide, and I am really glad that the greatness of his deeds finds more ways of expression. It is very symbolic that this wonderful initiative of Sugihara Week came from Kaunas, which is the center of all the story of Sugihara. "
According to the Deputy Mayor of Kaunas, Mr. Simonas Kairys, "Although the Sugihara Week is organized for the first time, it has already attracted huge attention in Lithuania and Japan. It is incredible to see what a connection is established between such different and distant countries. During the Week, Kaunas will be visited by many honorable guests from Japan, including a member of Japanese National Diet, delegates of Gifu Prefecture and the Japanese mass media."
Vice-mayor cordially invites residents of Kaunas and city guests to plan their time to enjoy the big variety of free events. In the program, musical concerts, symposium, film screenings, public lectures, exhibitions, workshops, etc., are planned in various spaces of Kaunas.
"Sugihara Week" invites Lithuanian, Japanese and Jewish nations to join together, and to reiterate the story of Sugihara in the new light. Artists of different nations will get together in joint projects, and scholars will discuss in the authentic spaces of interwar Kaunas", Dr Aurelijus Zykas, head of the Centre for Asian Studies of Vytautas Magnus University, one of the organizers of Sugihara Week, mentioned.
Together with the central topic of Sugihara, other topics such as the visible marks of Japan in Kaunas, lectures on humanism and tolerance, aspects of Japanese culture will be presented.
Organizers and partners of the event: Kaunas City Municipality, Vytautas Magnus University Centre for Asian Studies, Sugihara Foundation "Diplomats for Life", Embassy of Japan in Lithuania, Kyumeikan Kendo Dojo, Salon "Jaukūs Namai", HOF Hotel, etc.
Program of the event (Official English version)
Program of the event (Official Japanese version)
You can find more information in the official Facebook page.