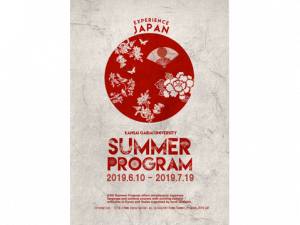 Kansai Gaidai University (Japan) is pleased to inform you that application for the Asian Studies Summer Program 2019 is now open.
Six-week program offers the combination of Japanese language course with lecture course in Asian Studies, which will lay a foundation for understanding Japan and its people. Field trips and student-organized activities will add interesting hands-on experiences to students' learning.
Deadline for application: March 1, 2019
You can find Application Forms on our following homepage here.
Should you need further information regarding this program, please contact Yutaro Kusunose kgsummer@kansaigaidai.ac.jp.