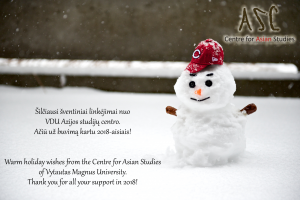 The staff of the Centre for Asian Studies sends the Season's greetings to all of you and wishes you to have a merry Christmas and a happy New Year!
Year 2018 was a fruitful period for the Centre. ASC created the documentary "Kaunas. The city of Sugihara and Japan" which premiered both in Lithuania (April 26th) and Japan (July 28th). We organized 29th international EAJRS (European Association of Japanese Recourse Specialists) conference on the topic of "(G)localizing Japanese Studies Resources". It was the first one taking place in the Baltic States. On October 5th we expanded our network and opened King Sejong Institute in Kaunas, strengthening cooperation between Lithuania and South Korea. Signed international agreements with Gunma University (Japan), Ochanomizu University (Japan), Korea University (South Korea) and National Taipei University of Technology (Taiwan).
We are thankful to our Sopanet network, partner institutions, students' clubs for cooperation and participation in our activities. Thank you for guiding us and allowing us to grow.
Thank You for being with us!