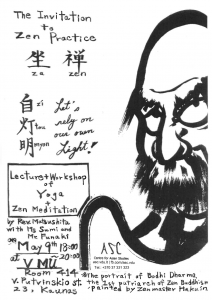 We are sorry to inform you that the event is being cancelled due to illness and it is planned to be moved to June. Detailed information will be published later.
On May 9th, Thursday, 18:00 in room 414 (V. Putvinskio st. 23, IV floor) VMU Centre for Asian Studies organizes public lecture about Zen meditation and yoga practice "The Invitation to Zen Practice". The event will be held in English, is free of charge and open to all.
VMU will be visited by three guests from Japan: Zen Buddhism monk Sohaku Matsushita, light artist Mr. Suguru Funaki and yoga instructor Ms. Rie Sumi. In the beginning of the event Mr. S. Funaki will present Japanese hand-made lanterns made from Japanese paper.
Instructor Ms. Rie Sumi will demonstrate yoga practice. Yoga is an important part of Zen Buddhism because Buddha was a yoga practitioner who mastered the correct posture and breathing methods which allowed him to become one with the universe. During the yoga practices he entered into the deep concentration "smadhi" and experienced "satori" – he was enlightened by the morning star.
Zen Buddhism monk Sohaku Matsushita will present Za-zen practice (correct breathing and meditation). According to Mr. Matsushita, Zen is not a philosophy, but exercise of body and experience designed to achieve true self. It is believed that Zen can act as a medicine in times of a spiritual crisis because it contains the energy of life.
Sohaku Matsushita began to practice Zen in 1975 when he enrolled into Ryutakuji Zen Monastery (Rinchi zen school), where he trained as a monk. In 1983 he became an abbot of Chokoji zen temple where he resides now. Mr. S. Matsushita is organizing zen seminars all over the wold including Northern Europe (Sweeden, Findland, Lithuania). In 2014 he published a book "My Way to Zen Master Hakuin".