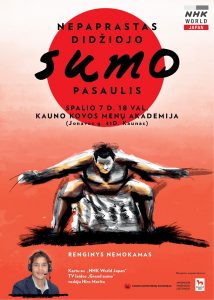 What do you know about SUMO? Would you like to know more?
We invite you to the presentation of Japan's national Sport sumo, which is going to take place on October 7th, 6:00 PM at Kaunas Martial Arts Academy. The presentation will be held by famous "NHK Eorld Japan"TV show about sumo "Grand Sumo" host Mr. Hiro Morita. Presentation will be held in English with translation to Lithuanian.
This will be an interactive evet during which you will not only hear interesting facts about this rare sport in Lithuania, but you will also be able to ask questions. Therefore, we encourage you to actively participate. During the event there will be a small exhibition of equipment used in the sumo world. You will be able to measure your height with (almost) real sumo wrestlers.
This is a great opportunity to get to know this traditional Japanese sport therefore, we kindly invite you to come.
Venue: Kaunas martial art academy (Jonavos st. 41D, Kaunas)
Time: 6:00 PM
Duration: 1,5 hour.
The event is free of charge, seats are limited.