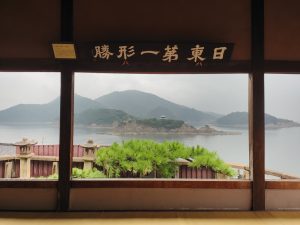 On May 17th, 2019 VMU Centre for Asian Studies together with Komaru Transportation Foundation and Hiroshima University Lithuanian Center organized Second Japanese language contest. The contest began with the opening addresses by Japanese ambassador to Lithuania H.E. Mr. Shiro Yamasaki, CEO of Fukuyama Transporting Mr. Shigehiro Komaru and Vice-rector of Hiroshima University prof. Toshiyuki Sato. Participant's speeches were evaluated by a competent commission brought together especially for this contest.
Our congratulations went to Milda Magelinskaitė and Matas Škarnulis who won an opportunity to participate in an international Japanese language program in Hiroshima University on August 19 – September 3, 2019.
During the two-week program contest laureates attended lectures, during which various lecturers and volunteers shared their knowledge about various aspects of Japanese language, history, architecture and culture. The program was not only full of theoretical but also practical activities – participants had an opportunity to expand their Japanese language knowledge while working in groups, discussing and presenting their native countries. Fours days in the program were dedicated to excursions during which participants visited Miyajima island, Tomonouro city. Taika memorial and memorial museum, Hiroshima castle, Hiroshima art museum, etc.
Reports by the contest laureates (in Lithuanian):