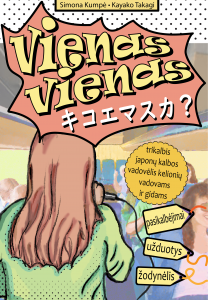 This month VMU Centre for Asian studies successfully concluded the project with the objective to create a Japanese language textbook for guides. The material for conversations provided in the textbook "Vienas vienas… キコエマスカ" allows to gain necessary communication skills and knowledge needed for the tourism sector in Lithuania. This is the first Japanese language textbook for guides in Lithuania.
As the number of Japanese tourists arriving in Lithuania is growing, the need of Japanese-speaking guides is growing alongside. Currently two existing Japanese-Lithuanian dictionaries, especially online dictionary jishokun.lt are very useful for Lithuanians working with the tourist groups. However, dictionaries do not always provide all the necessary information, especially when it comes to polite language expressions, requests, suggestions, etc. – all that no guide can avoid in their job. Wishing to complement the existing study materials, authors present a conversation textbook in Japanese language for beginners or future guides. It is designed to provide necessary language skills when communicating with tourists.
The project which lasted from May 1st 2020 to March 31st 2021 received funding from the Japan Foundation and was carried out in cooperation with Ms. Miki Udržalová, representative of Faculty of Philology Department of Japanese Language at Masaryk University (Czech Republic). This project was managed by VMU Japanese language lecturer Ms. Kayako Takagi.
You can access the textbook here.