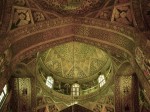 On May 9, 15:00 the photo exhibition on Iran and Persian culture will be opened on the Library floor of the Faculty of Humanities (Donelaičio g. 52, 2nd floor). The exhibition will present the natural, historic and architectural sites and attractions of Iran and some samples of Persian handicrafts, works of metal, wood and cloth.
The exhibition will be opened by the first secretary of the Embassy of Islamic Republic of Iran in Warsaw, Mr. Hossein Ebrahimi. During the official opening, he will share some facts about Iran, Persian Language and society. Also, book donation ceremony from the Embassy for the VMU Library will take place.
The exhibition will continue for one month, till mid-June.