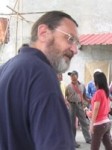 The Department of Cultural Studies and Ethnology and the Centre for Asian Studies invite to a lecture "Arranged marriages: whose choice and why? Reflections on the principles underlying spouse selection worldwide", which will be hold by Prof. Robert Parkin from the Institute of Social and Cultural Anthropology, University of Oxford.
Lecture will start at 11:15, 18 September, at 521 auditorium, Donelaičio 52, Kaunas. The lecture will be given in English.
Short abstract of the lecture: The practice of forced or arranged marriages among certain immigrant communities has become a controversial subject in Britain and other Western countries because such marriages fail to observe the principle of freedom of choice adhered to by the majority populations in these countries. This lecture examines the underlying reasons for arranged marriages generally and shows that they are actually very widespread cross-culturally. Using the theories of the anthropologist Jack Goody, the lecture also points out that the West has only developed values stressing freedom of choice in spouse selection relatively recently in its history. The West's practices therefore need explanation quite as much as the persistence of arranged marriages elsewhere in the world.
Dr Robert Parkin's main research interests are related to kinship, South Asia, French anthropology, Anthropology of Europe. The lecturer has made a detailed study of Dumont's ideas and their practical application, his major work being Louis Dumont and hierarchical opposition. In 2002 Dr Parkin spent two months as a Research Fellow at the Max Planck Institute for Social Anthropology, Halle, Germany. In 1996 and 1997 he was employed successively on two ESRC research projects, one on Government, Society and the Jewish Minority in Poland since 1989, led by Dr Jonathan Webber, the other on the European Union, led by Dr Crispin Shore.
He has been co-editor of the Journal of the Anthropological Society of Oxford, and is Assistant Secretary of the British Centre for Durkheimian Studies, ISCA. Dr. Parkin teaches on the MSc and MPhil degrees in Social Anthropology, including the South Asia and Europe options.  He is Director of Graduate Studies at ISCA.