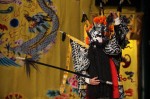 VMU Centre for Asian Studies and Confucius Institute at Vilnius University invites everyone to witness a wonderful performance of the famous Beijing Opera at VMU Great Hall (Daukanto 28) this November 25th, 18:00.
Beijing opera comes from the North-East China and it is one of the few theater's traditions that carries the history all the way back to the 13th century. Opera astonishes with beautiful and colorful costumes, expressive masks, specific theater language and movements.
Follow the updates about the event on our Facebook page.