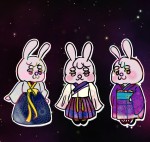 Vytautas Magnus University Asian Week (VMU Asian Week) is a one-week long cycle of events, related to East Asia region. This year VMU Asian Week will take place on April 18–22 in various venues of VMU and other public places.
VMU Asian Week aims to provide a better understanding of the region and to raise awareness about Japan, Korea and China in an accessible and attractive way. The events are open not only to university's community but also to everyone interested in East Asia. Asian Week is organized by VMU Centre for Asian Studies together with student clubs "Hashi", "Wu Wei" and "Hallyu", in cooperation with our social partners.
This is the second time VMU Asian Week is organized. Last time (20–24 of October, 2014), the events were a great success and we attracted a lot of attention from the society.
2016 programme of VMU Asian Week:
The timing of the VMU Asian Week is correlating with Anime nights – a traditional event in Kaunas. This festival will take place on the 22-24 of April, 2016.
During these days our partner Caif Cafe (Laisvės al. 50) will be offering new delicious coffee Azijos Latte.