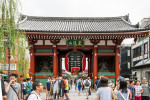 The Centre for Asian Studies invited scholars and the general public to an international academic conference "Travel and Mutual Understanding: East Asia, Europe and Beyond" that was held October 20-21 in Kaunas, Lithuania at VMU Small Hall (Daukanto st. 28, 2nd floor).
The conference focused on travel as an opportunity for inter-cultural learning and both material and immaterial exchanges. The conference papers reviewed the history of travelers' contacts, tourism policy, tourist industry and other related topics spanning from early 20th century until today, with most focus given to East Asian countries.
Tourism figures show that the number of East Asians visiting Europe and the other way around is constantly growing. Group tours as well as solo travel between these regions are becoming popular. The trend is accompanied by increasing volume of publications on travel between these regions: press articles, TV shows, blogs, and guidebooks. Travel experience provides ample of opportunities for self-reflection and reconsideration of knowledge that is accepted as self-evident. For example, there is anecdotal evidence that East Asian tourists approach Eastern Europe in a curious and rather unprejudiced way – for them, the region is not defined by its Socialist past, but rather, a history of architecture and cultural contacts preceding that period. However, still very little is known about how the travel experience shapes inter-cultural understanding and what messages travelers bring home.
The conference was featured keynote speakers and presenters from East Asia and Europe: Yasuhiro Watanabe (J. F. Oberlin University, Tokyo, Japan), Takamitsu Jimura (Liverpool John Moores University, UK), Ene Selart (Tartu University, Estonia), Ian Rapley (Cardiff University, UK) and others. In addition, a discussion "Tourism between Lithuania and East Asian countries: how to benefit from growing opportunities and deal with challenges?" was be held on the second day among scholars and practitioners from Lithuanian tourism related institutions and businesses.
More detailed information can be found in conference program.
A photo gallery: