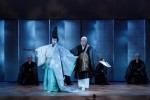 The Centre for Asian Studies and Global Japan Office invite to participate in the performance of Kabuki theatre and Nihon buyo. The event will be held on May 12th evening (6 p.m.), in the Big Hall of Vytautas Magnus University (Daukanto st. 28).
Kabuki dance performance is an exclusive Japanese cultural event in Lithuania. The last kabuki performance in our country was held more than 15 years ago. This time 22 members of the troupe led by dancers and kabuki actor Fujima Takamasa (藤間貴雅) are coming to Kaunas, Lithuania. Artists will present both the traditional Japanese dance and the kabuki theater. This performance will be unique because one of the parts of the performance will be performed by the professional performers and VMU students together.
The event is organized by the Agency "Yukari", and hosted by the VMU Centre for Asian Studies and TUFS Global Japan Office in Kaunas. It is supported by Agency of Cultural Affairs of Japan.