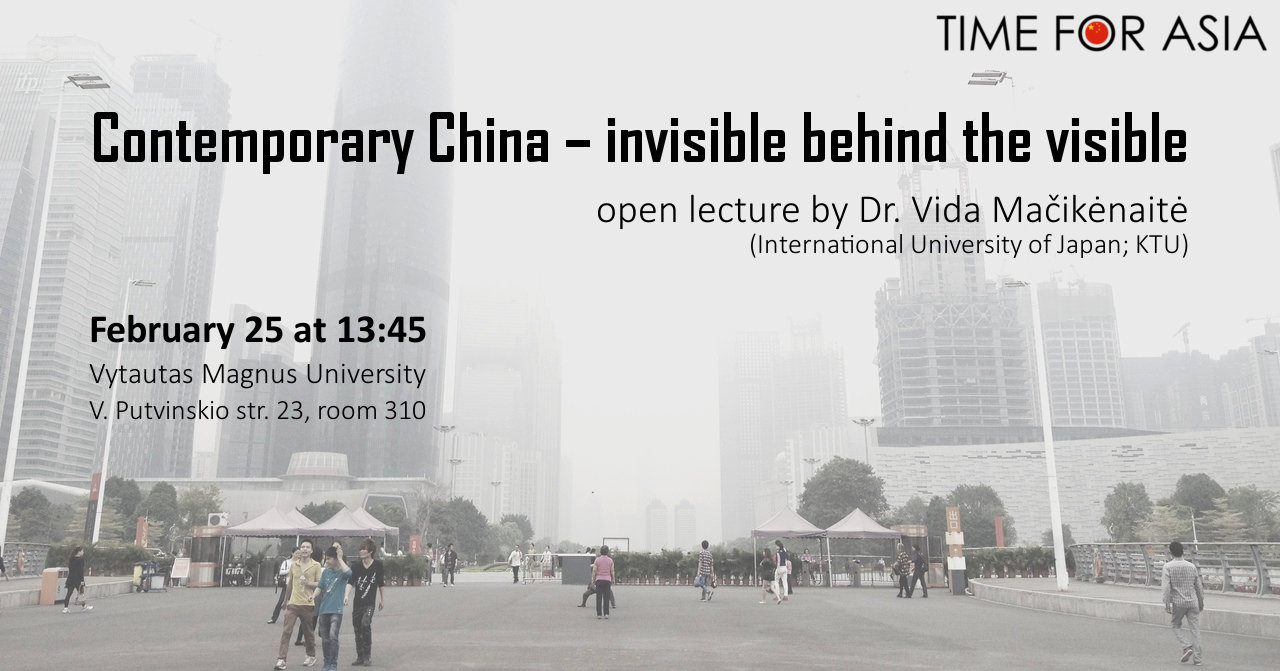 Centre for Asian Studies is inviting everyone interested in China to the first open lecture this semester from the cycle "Time for Asia". The presentation titled "Contemporary China – invisible behind the visible" will be given by Dr. Vida Mačikėnaitė who is researching and teaching about contemporary China both in Japanese and Lithuanian universities. The event will take place on February 25 (Tuesday) from 13:45 in VMU building at V. Putvinskio str. 23, room 310. The lecture will be in English and is free and open to all.
"These days "China" has become nearly a keyword across a variety of different topics – world economy, AI and even health at the moment. However, with the ever more present and visible China, much of it remains little understood and thus misunderstood. By looking at the history of China in the last two centuries, we can better understand not only why the communist party regime has been so stable or why it is so difficult for China and Japan to maintain constructive relations, but also why consumers in China decided to boycott Dolce&Gabbana in 2019. Similarly, considering Chinese traditional culture it is easy to see how hard it can be to sell ice-cream in China while Haagen-Dazs has been one of the best-selling brands in China."
Dr. Vida Mačikėnaitė studied at Vilnius University (Vilnius, Lithuania), Fudan University (Shanghai, China) and Keio University (Tokyo, Japan). At the latter one she acquired PhD degree in media and governance studies with a special focus on China. At the moment Dr. Vida Mačikėnaitė holds Assistant Professor position at International University of Japan and also teaches at Kaunas University of Technology as a visiting Associate Professor.
"Time for Asia" is a cycle of events, organised by the Centre for Asian Studies and aimed to present contemporary issues and topics in the fields of Asian politics, society and economics.
FB event page: facebook.com/events/824101841389116/