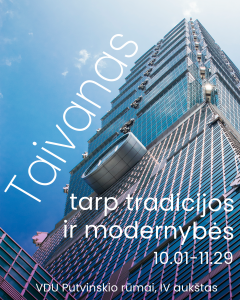 VMU Centre for Asian Studies is inviting not to miss the opening of Dr. Arvydas Kumpis photography exhibition "Taiwan: Between Tradition and Modernity" which is going to take place on October 1st, 13:45 at the 4th floor gallery (V. Putvinskio g. 23, Kaunas). After the opening we are inviting all to open lecture (in English) by Alex Fratila during which he will introduce contemporary Taiwan's societal peculiarities and cultural variety. The exhibition will take place until November 29th in 4th floor gallery.
Taiwan is a country of enchanting nature, charming culture, and colorful society. Due to its geopolitical location, it is more often discussed in the comments of politicians than comments of travelers, historians, or cultural figures. And that makes this land harder to know.
Physical distance complicates cognition of Taiwan – this factor is common to all East Asian countries. However, it is enough to take a little look at the features of Taiwan in order to feel the urge to visit it. We did exactly that with wife Simona.
We spent less than a week in Taiwan, however clearly laid-out route allowed to squeeze out the maximum out of this short trip. Arriving to Gaoxiong in late April 2019, we kept on heading north towards Taipei. During the days we enjoyed nature and museums and got a little tired due to tropical heat. Even though heat didn't move away during the nights, we dived into night markets. Smells, tastes and images encountered there will be remembered…
This small exhibition presents only a detail of what we saw in Taiwan. If these images will create a desire to experience this country by yourself it means that the purpose of these photographs has been achieved.
Arvydas Kumpis has a doctorate in Political Sciences, is a lecturer at Vytautas Magnus University, Senior Coordinator at VMU Centre for Asian Studies. He took an interest in photography during the schooldays, in his student years he became laureate of Vilnius University student Photography Competition, however, only recently he began to demonstrate his works to the broad public. A. Kumpis photographs was used in the catalogues of architecture, media portals, publications, during various events and exhibitions.
Organizer of the Exhibition: VMU Centre for Asian Studies.