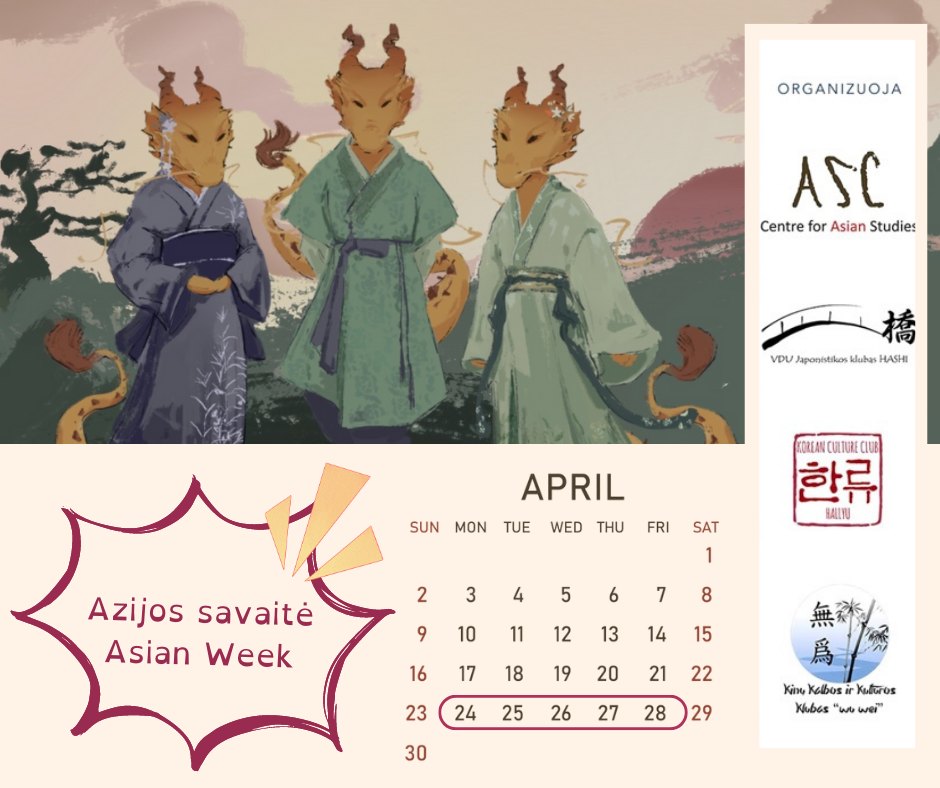 The Centre for Asian Studies (CAS) at Vytautas Magnus University together with the students' clubs "Hallyu", "Hashi" and "Wu Wei" invite Kaunas residents and city's guests to the VMU Asian Week 2023. This year the event will take place on April 24-28 in venues of VMU and other public places in Kaunas.
VMU Asian Week is a one week-long cycle of events dedicated to East Asian cultures – Chinese, Japanese, Korean and Taiwanese. It is done through the presentation of specific aspects of culture, arts and cuisine. CAS social partners in Lithuania and abroad actively participated in the organization of this event. This year, in cooperation with the Cinema Centre "Romuva", we invite you to watch famous films by Asian directors in the evenings during the Asia Week. You can purchase the tickets at the cinema "Romuva" or online here.
Here you can download the program of the Asian Week (PDF).
Our partners: Japanese Embassy in Lithuania, Confucius Institute, Korean Cultural Center, KSI Kaunas, Vilnius Korean Community, Spotlight Taiwan, Sugihara Foundation "Diplomats for Life", TaiwanPlus, Azijos kalbų ir kultūrų namai, Azijos menų centras, Cinema Centre "Romuva", "Anime nights", "Kuroneko", "Kyumeikan kendo", "Fujidream", "Jaukūs namai", "MangaShelf", Wing Tsun Kung Fu Kauno centro klubas, Kyumeikan kendo, Japanese food restaurant "Yakata", Kaunas County Public Library, African food restaurant "Buka hut" etc.
Follow Asian Week on Facebook.