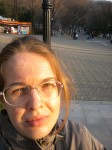 Laima Jukneviciute, Master's degree student from Vytautas Magnus University who finished East Asia Region Studies at the VMU Faculty of Political Science and Diplomacy in Spring, has been accepted to full-time doctoral studies at the Academy of Korean Studies in South Korea and has won the PhD scholarship from the Goverment of ROK.
Academy of Korean Studies is one of the leading academic institutions in South Korea, actively promoting Korean culture and society studies in the World. Thanks to the cooperation between the Academy and VMU, Laima Jukneviciute was the first student from Lithuania, who got a fellowship at the Academy in the Spring semester of 2012. During her fellowship, she whote her Master thesis, which was successfully defended. During her PhD studies at AKS, Laima is going to continue her research, and the preliminary title of her future Dissertation is "Innovative Gender Imaginaries in South Korea's Contemporary TV Dramas and Movies: The Dormant Potential of the Cute Male and the Emotionally Emancipated Female in Re-shaping the Global Cinematic Trends".
Continuing for more than a decade, collaborations between Vytautas Magnus University and academic institutions of South Korea provide VMU students with opportunities for full-time studies at higher education institutions of this country. Currently, VMU has 8 active agreements with the universities in South Korea.