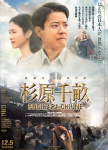 This October 13th the first screening of a movie about Chiune Sugihara will take place in the historical movie theater "Romuva". During this exclusive premiere the viewers not only will be the first ones in the world to watch the film (the Tokyo premiere is set in December), but also will have a rare opportunity to meet with the director Cellin Gluck as well as the actors who played main roles in it – Toshiaki Karasawa (as Chiune Sugihara) and Koyuki (as Yukiko Sugihara).
The start of the premiere – 18:00, doors open at 17:00. The event is free of charge. The film will be shown in an original language (Japanese and English) with Lithuanian subtitles.
Chiune Sugihara was a Japanese Vice-Consul in Lithuania who lived in Kaunas (in a current historical building "Sugihara House") during the period of 1939 – 1940. While residing there, he saved thousands of Jewish people lives by issuing exit visas to Japan allowing them to flee from the holocaust and the occupation of Nazis.
"The film "Persona Non Grata" (Chiune Sugihara) is based on a true story about a Japanese Consul, Chiune Sugihara, who saved 6000 Jewish people from Nazis during World War II without regard to his risk in disobeying the assignment of Japanese government. – producer Nobuyuki Iinuma states, – Although the year 2015 marks the 70th Anniversary since the end of WWII, there still have been many disputes and refugee problems all over the world. I strongly feel destiny at the fact that we can have a World Premiere Screening in Kaunas, Lithuania, where Chiune Sugihara issued visas, in the year of milestone, and I sincerely hope many of you could join the screening."
"Persona Non Grata" is directed by Cellin Gluck and features an international cast, composed of Japanese, Polish, French and Russian actors. Chiune Sugihara is played by Japanese actor Toshiaki Karasawa, while Koyuki — known mainly for the main female part in "The Last Samurai" — plays Sugihara's wife. The film is set in the period from 1934 until 1955, in Europe, Asia and North America. It was filmed entirely in Poland, mainly with Polish crew.
The movie is hosted by the Centre for Asian Studies of Vytautas Magnus University. "On September 16th the creators of the movie visited Lithuania, trying to find an appropriate place for the first screening. – Dr. Aurelijus Zykas, head of the Centre said, – From the various places they considered, the final choice was the movie theater "Romuva". The oldest still-open movie theater in Lithuania was opened to public at the same time when Chiune Sugihara lived in Kaunas. I am glad, that the delegation from Japan was impressed by the cozy and authentic atmosphere of the theater. They were also impressed by the helpfulness of our staff and our students, who will also be co-coordinating the event."
The event is supported by Kaunas Municipality, Sugihara Foundation, Embassy of Japan in Lithuania, Embassy of Lithuania in Japan.