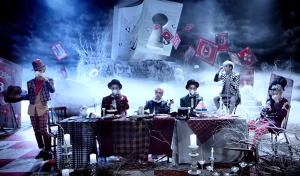 We're glad to announce that on October 25 we will be having our first Halloween party! We invite you to come wearing any sort of Halloween costume or accessories – whether it be zombies, vampires, aliens or monsters (a classic choice after all!), mythological creatures or cosplay or maybe K-op inspired looks. Everyone will be able to participate in voting for the most creative costume and the winner will receive a prize.
Don't have a costume? No worries! We will be waiting for you anyway.
Also, this event will be dedicated for a workshop – we've prepared some traditional Korean masks that you will be able decorate however you like. We'll take care of brushes, gouache and markers but you're welcome to bring your own art supplies as well.
We will be serving some tea and snacks, however we encourage you to bring some for yourself and your friend as well.
Place: V. Putvinskio st. 23 (VMU Centre for Research and Studies), 311 classroom.
Date/Time: October 25, 6PM
또 만나요~
For more information click here.